You are here

The Trade Tariff Tango
The Trade Tariff Tango
Submitted by Group W - Investment Management on July 5th, 2018
A few months ago most financial commentators were in agreement that the global economy had entered a phase of synchronized global expansion. It is true, by means of international trade and cooperation, the world economy has been operating pretty close to the way economic theorists have mapped it out for generations. The theory is if each country trades what it has in abundance in return for goods and services that it needs, then the global economy will operate more efficiently than if each country keeps to itself. Some countries have a wealth of natural resources; some have a surplus of willing workers; and others have a high degree of innovation. When these factors and others are allowed to flow and mix globally, then everyone should come out ahead. And it actually seems to be happening. From Barron's:
"Barring a zombie apocalypse…the current Goldilocks environment of synchronized, above-trend global economic growth and low but gently rising inflation will likely persist in 2018."
Global GDP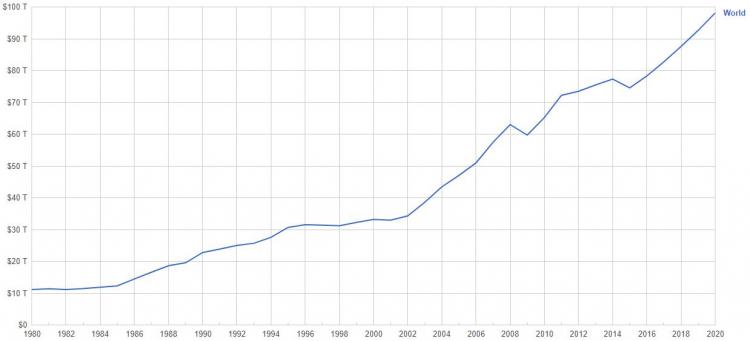 Source: IMF
Recently, however, all of that has been put in jeopardy. The Trump administration has correctly identified some bad actors in the global trade arena, namely China and the EU, and wants to get better deals for America. But instead of using the traditional remedies for trade disputes, the president is chucking many existing trade agreements and imposing new tariffs on long-standing trade partners. It's a big gamble. Some countries have responded with retaliatory tariffs on U.S. goods. If this dance of tit-for-tat tariffs is allowed to persist; it will lead to higher prices, fewer jobs, and lower GDP. That is a recipe for a poorer standard of living for everyone.
Is the Trump administration employing a clever negotiating tactic? Is there a method to the madness? Can higher tariffs possibly lead to lower tariffs and better trade agreements? These questions have put investors in a quandary. Equity markets have been directionless since the middle of February. In order for economic growth to continue at its current pace, the administration must successfully perform the trade tariff tango – a very difficult dance indeed.
1 July 2018 Group W Investment Management