You are here

Outlook for 2019
Outlook for 2019
Submitted by Group W - Investment Management on January 9th, 2019
The fourth quarter of 2018 proved to be one of the roughest on record for stock market investors with the S&P 500 Index falling 14%. Market participants are expressing worry about the current economic outlook by selling shares indiscriminately. Here is a brief list of the sources of investor angst:
Trade war with China
Government shutdown
Rising interest rates​
Brexit upheaval in Europe
Middle East drama per usual
Erratic leadership in Washington
Mueller investigation
It's hard to deny the potential impact of these matters on our economy. Investor sentiment is rightfully quite pessimistic. In fact, four out of five economists surveyed believe a recession will occur in 2019 or 2020. Is it time to sell stocks and head for the hills? Or is this an opportunity for savvy investors?
A case can be made that most of the bad news has already been discounted in current market valuations. After all, that is what the stock market does. It is forward looking and anticipates economic conditions coming down the pike.
A further case can be made that market valuations are very attractive by historic standards, and that now is the time to selectively add to equity positions. To illustrate current valuation levels, here are some simple price/earnings figures for several market indices: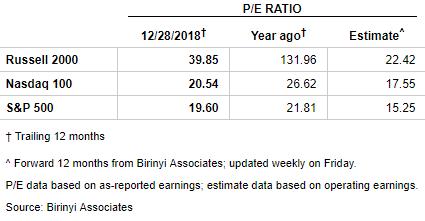 Even though forward earnings estimates are often biased to the upside, the data show that current market valuations are quite attractive in any case.
Long-term investors must stay the course. Paraphrasing the sagacious Warren Buffet, the key to stock market success is to be fearful when others are bold, and bold when others are fearful. There is a lot of fear in the market these days.
1 January 2019 Group W Investment Management