You are here

The New Consumer Staples
The New Consumer Staples
Submitted by Group W - Investment Management on July 12th, 2021
Currently, the bogeyman most feared by investors is inflation. In our daily lives, we have all seen evidence of rising prices. Energy, food, housing, automobiles all seem to be more expensive than they were just a year ago. The official data show this is not a figment of our imaginations.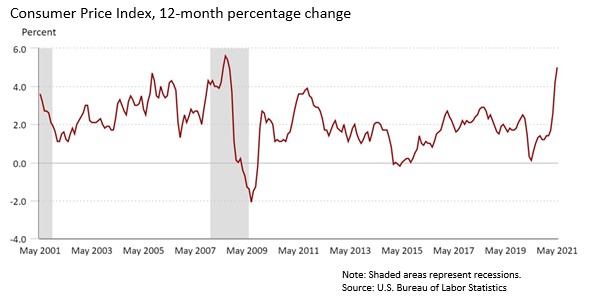 Warren Buffet, as head of conglomerate Berkshire Hathaway, is in an excellent position to evaluate what is going on with our nation's economy. Recently he said, "We are seeing very substantial inflation. We are raising prices. People are raising prices to us, and it's being accepted."
The question for investors: Is this a transitory phenomenon, or is it the beginning of a period of sustained devaluation of our currency? There are good arguments on both sides, and no one truly knows the answer. Factors causing the current inflation are multiple. The main ones are massive monetary stimulus by the U.S. Federal Reserve, huge fiscal stimulus by the U.S. Congress in the form of direct payments of pandemic relief to the citizenry, and shortages of goods and services caused by Covid shutdowns and social distancing.
The positive forces that will work to restrain inflation can be ascribed to the "invisible hand" as hypothesized by Adam Smith in The Wealth of Nations two and a half centuries ago. In theory, business firms will respond to shortages and high prices by producing more goods and services thereby putting downward pressure on price levels. Competition from low-cost foreign producers will also help restrain prices.
Whatever the duration of the current rise in prices, the companies that typically do well during inflationary times are the ones involved in natural resources, real estate, and consumer staples.
As a category, consumer staples are particularly interesting. These are the products that we all need and use daily such as laundry detergent, toilet paper, and breakfast cereal. We usually are willing to pay increased prices for these items because we don't want to go without them no matter what. Economists call this price inelasticity of demand. In your investment portfolio, companies that produce consumer staples are well represented.
But there is another sector of the economy that has become an essential part of our daily lives. That is communications and information technology. It is hard to imagine modern life without our devices and communications services. Modest price increases are not going to keep us from upgrading to the latest technology. Demand for these products and services is also price inelastic, so companies that sell the new consumer staples should do well during times of inflation.
1 July 2021